Risovi Taxidermy Studio References
I am completely happy with the raccoon that you mounted for me. My fathers deer, well
let's just say I am still in awe over how creative you are. I would like to visit your
studio when I come back there this spring. I am very excited to put all of our game
in your hands. My trophy room awaits your magic touch. Go crazy please.
Eric Herndon, California

---
Let's face it, there are many taxidermists available to preserve our once in
a lifetime hunt or fishing trip. With the abundance of taxidermists also
comes an abundance of opinions on "who's the best" or "who's the cheapest."
I'm not giving my opinion to promote Jamie and his business because I think
he's one of the best or reasonably priced, instead, I want to give it in
respect to the artistic value and perfectionist drive he puts toward his
work. All I wanted
out of my taxidermist is quality; Jamie takes it a step beyond that and it's
clear the people who know best see it too by honoring him with National and
World Championship Taxidermy first place prizes. I will not hesitate a bit
suggesting Jamie. He truly is one of the best.
Tim Sandstrom, North Dakota
GM & Editor Fishing Buddy Outdoors, Inc.

---
When it comes to absolute precision and replication of the real deal,
Jamie nails it every time with his incredible World Champion taxidermy
talents. It speaks volume that I pass by a lot of taxidermists when
driving 400 miles (one way) to have Jamie do my work.
Chuck Eldredge, Minnesota
---
After receiving each animal back that I have sent to Jamie Risovi, I always get that same feeling of satisfaction. I instantly feel the moment of the hunt, and the animals look exactly like the day I arrowed them. He is the most efficient, dedicated, creative and reliable taxidermist I have ever used. Your $buck$ should stop at Risovi Taxidermy.
Joe Scaramell, Minnesota
---
I'm very happy with the work on the double pedestal head mount for the set of locked antlers that you did. Several friends have seen the mount and all have been very impressed. Not something you see every day and the quality is first rate. Thank you!!
Larry Burkhart, Minnesota
---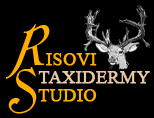 Jamie Risovi
1116 3rd Ave. N.
New Rockford, ND 58356
701-947-2048

COPYRIGHT © RISOVI TAXIDERMY STUDIO - ALL RIGHTS RESERVED