Risovi Taxidermy Studio Shipping Information

Shipping trophies to us:
When shipping your trophies to us, use the address below:
Jamie Risovi
1116 3rd Ave. N.
New Rockford, ND 58356
701-947-2048

Be sure to call us in advance of shipment so that we are aware of the shipment and will be expecting its arrival. We will inform you on how to package and ship your specimens correctly. Also, we will make sure proper paper work (licenses, mount poses, etc.) accompanies the shipment.


Shipping mounts to you:
When we ship your mounts to you, we'll contact you with the crating, shipping, and remaining balance billing prior to shipment. Your mount will then be shipped immediately upon payment.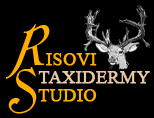 Jamie Risovi
1116 3rd Ave. N.
New Rockford, ND 58356
701-947-2048

COPYRIGHT © RISOVI TAXIDERMY STUDIO - ALL RIGHTS RESERVED